Prof. Mark Kai-keung, PhD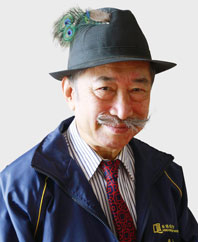 Prof. Mark Kai-keung, Retired Professor of the Department of Biology of The Chinese University of Hong Kong (CUHK), showed great dedication to teaching and research during his 40 years as an academic scholar. An inspiring teacher, he played a significant role in the success of his students.
Prof. Mark studied Mathematics and Science at the then Hong Kong Baptist College in 1956. Inspired by Prof. Yen Kuo-yung, an expert in Life Sciences, Prof. Mark was determined to become a scientist and took up the taxonomic and ecological study of Hong Kong orchids and fern species. He was awarded three scholarships, including Frank Shu Scholarship and the Lam Chi Fung Scholarship of Baylor University, for his excellent academic results during his studies at the College.
Prof. Mark then continued his studies in the US and obtained a Master's degree and a Doctoral degree in University of California, Berkeley and University of Oregon respectively. In 1965, he returned to Hong Kong and started his teaching career. He has taught and guided over 150 PhD graduates, among them included Prof. Tsui Lap-chee, former president and vice-chancellor of The University of Hong Kong. Prof. Mark is reputed for his ability in identifying talents of students.
Prof. Mark has made remarkable achievements in academic research. He published articles on lysozyme in the 1970s and obtained the first three US patents for CUHK. Apart from teaching and research, he is a seasoned collector of Chinese antiques and art pieces. His precious exhibits, including jade pieces, bronze mirrors and inkstones, were once showcased at CUHK. He is a forerunner in the collection of Chinese antiques and has made notable contributions in promoting the history and heritage of China.
« Back