Dr. Justin Chiu Kwok-hung, DSocSc, LLD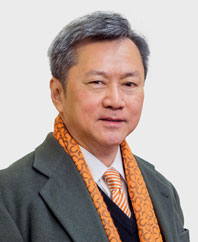 Dr. Justin Chiu is Member of Executive Committee and Executive Director of Cheung Kong Hutchison (Holdings) Limited and Chairman and Non-executive Director of ARA Asset Management Ltd. He studied Sociology at the then Hong Kong Baptist College from 1971 to 1973 and attained a Bachelor of Arts in Sociology and Economics from Trent University in Canada in 1978. He has more than 30 years of experience in real estate in Hong Kong and various countries and is one of the most respected professionals in the property industry in Asia. He is renowned for his business acumen and outstanding leadership. He was named Distinguished Alumni by Trent University in 2009 and was awarded the title of Director of the Year by the Hong Kong Institute of Directors in 2010.
Dr. Chiu is closely affiliated with HKBU and has made contributions to the University through various channels including sharing his experience and wisdom with the HKBU community at Alumni Sharing Forums and public lectures. He has been a member of the Board of Governors of the HKBU Foundation since 2009, and is currently an advisor for the HKBU's 60th Anniversary Celebrations and a member of its Organising Committee on Special Events. Over the years, he has personally donated more than HK$1.5 million in support of the University's institutional advancement and campus development. In 2011, he made a generous donation of HK$30 million in the name of Pecan Foundation Limited in support of a research project entitled "Strategic Plan for Intellectual Asset Protection of Traditional Chinese Medicine". In 2012, HKBU conferred upon him a degree of Doctor of Social Sciences, honoris causa, in recognition of his contributions to his alma mater and society advancement. He received a degree of Doctor of Laws, honoris causa, from Trent University in 2013.
Dr. Chiu is a passionate advocate for community development, education and environmental protection. He served as a member of the Government's Advisory Committee on Multi-Storey Building Management and as a convenor of the Working Group on Unfair Provisions in the Deed of Mutual Covenant. Currently, he is a member of the Standing Committee of the 12th Shanghai Committee of the Chinese People's Political Consultative Conference of the People's Republic of China. With the conviction that education is crucial to a country's development, Dr. Chiu has donated generously to charity and education institutions worldwide through the Pecan Foundation, a family charitable foundation.
« Back