Ms. Delia Chan Wai-sheung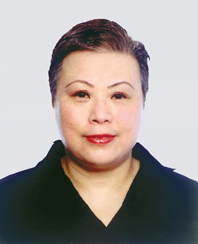 Ms. Delia Chan is a successful entrepreneur and a committed educator. She began her career in the textile and garment industry after completing Secretarial and Managerial Studies at Hong Kong Baptist College in 1971. She went on to establish several garment firms with her late husband, and is currently Managing Director of Famous Horse Holdings Limited which holds a number of companies in various fields. Ms. Chan obtained a Bachelor's degree in Health Science (Chinese Medicine) jointly offered by HKBU and the Royal Melbourne Institute of Technology University in 2005, and a Master of Chinese Medicine at HKBU in 2008.
Ms. Chan has made significant contributions to the economic and social development of both Hong Kong and the Mainland. Apart from making generous donations in support of healthcare services, education, infrastructure and cultural projects in Hong Kong and on the Mainland, Ms. Chan is also involved in various public and social service activities. She has funded the building of primary and secondary schools as well as a building in Wuyi University, provided subsidies to students, and set up an education fund and a capital works fund for Wuyi University. In addition, Ms. Chan has also sponsored the Taishan Culture and Art Festival and donated to support the construction of other municipal and public facilities in Jiangmen, including the Wuyi Huaqiao Plaza, bridges, roads and water conservation facilities.
Her enthusiasm for acquiring knowledge drives her to learn from many different areas including Chinese Medicine, religion, visual arts, design, drawing and calligraphy. She has a deep appreciation of the value and importance of lifelong learning and education for the new generation. Ms. Chan cares deeply about the development of her alma mater. Since 2008, she has made generous donations to HKBU, in support of the Centre for Cancer and Inflammation Research, Campus Expansion Plan, scholarships, Chinese medicine research, Daniel and Kitty Tse Visiting Professorship Scheme, and also clinical activities for the public to celebrate the 60th anniversary of HKBU. She is Honorary Permanent President and a member of the Alumni Committee of the HKBU Foundation and was conferred an Honorary University Fellowship by HKBU in 2012.
« Back